Research, review, and buy World Power Travel Adapters. Targus APK01US1 is available shipped for $23.65. More information on this item is available below. Click the button below for details and specifications.
Targus APK01US1 World Power Travel Adapters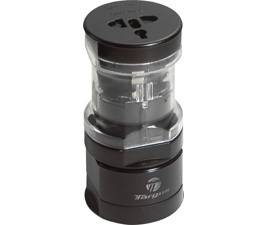 (0)
View availability and more information >>
From here, you can purchase this product in our Online Catalog. You can also browse BLT's Online Catalog, search BLT's catalog, visit BLT's home page, or visit the ShopBLT.com Blog.
Note: These specifications are provided by a third party as a courtesy and should not be relied upon to accurately describe an item. BLT is not responsible for any information appearing in this section of the website. Consult the manufacturer's website for complete information on an item before purchasing. This is all the information we have for this item. If you need more, please contact the manufacturer.

---
Data Sheets

Data Sheet

Essential Information
BLT Item #:
BCN0637
Manufacturer Part #:
APK01US1
Manufacturer:
Targus
Description:
WORLD POWER TRAVEL ADAPTERS
Weight:
0.34 lbs.
Manufacturer's website:
http://www.targus.com/us/
Dimensions:
7.6" x 5.6" x 0.35"
UPC:
092636249366
Overview

- Universal faceplates compatible with standard wall outlets in over 165 countries
- 3 individual and interchangeable adapters
- Worldwide voltage compatible (110 VAC–250 VAC)
- Weight: 3.5 oz

Brand and Item Information
Brand:
Targus
Name:
Targus APK01US1
Brief Description:
Targus APK01US1, 110-240 V, 50/60 Hz, Black, 100 g, 47 mm, 47 mm
Expanded Description:
Targus APK01US1. Input voltage: 110-240 V, Input frequency: 50/60 Hz. Colour of product: Black. Weight: 100 g, Width: 47 mm, Depth: 47 mm
Technical details
Power supply type:
Indoor
Purpose:
Universal
Detachable power connectors:
Yes
Weight & dimensions
Weight:
100 g
Width:
47 mm
Depth:
47 mm
Height:
85.5 mm
Power
Input voltage:
110-240 V
Input frequency:
50/60 Hz
Colour
Colour of product:
Black
---
Free ground shipping in the contiguous 48 United States on most orders over $5.00!