Research, review, and buy Black Legend Iq Backpack 16in. Targus TSB705US is available shipped for $49.36. More information on this item is available below. Click the button below for details and specifications.
Targus TSB705US Black Legend Iq Backpack 16in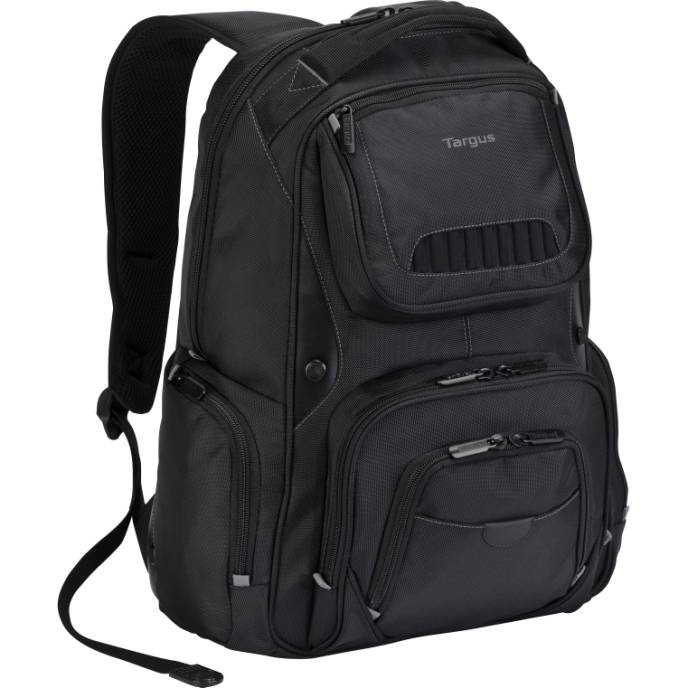 (0)
View availability and more information >>
From here, you can purchase this product in our Online Catalog. You can also browse BLT's Online Catalog, search BLT's catalog, visit BLT's home page, or visit the ShopBLT.com Blog.
Note: These specifications are provided by a third party as a courtesy and should not be relied upon to accurately describe an item. BLT is not responsible for any information appearing in this section of the website. Consult the manufacturer's website for complete information on an item before purchasing. This is all the information we have for this item. If you need more, please contact the manufacturer.

---
Essential Information
BLT Item #:
BNA4580
Manufacturer Part #:
TSB705US
Manufacturer:
Targus
Description:
BLACK LEGEND IQ BACKPACK 16IN
Weight:
2.14 lbs.
Suggested Retail Price:
$49.99
Manufacturer's website:
http://www.targus.com/us/
Dimensions:
17.5" x 14.5" x 3"
UPC:
092636270773
Overview

The Targus Legend IQ Backpack is perfect for the on-the-go techie. Plenty of multi-purpose pockets and ergonomic durability makes this backpack an irresistible necessity. The Legend IQ has a compartment for every need and every accessory. It comes equipped with a large padded pocket that is designed to fit laptops up to 16", a separate section for your tablet that is lined in soft-touch material, internal and external accessory pouches which zip for extra security, two side pockets for easy access and a media pocket custom fit with a built-in cord and headphone jack so that you can keep the tunes going while you walk. Comfort was also no sacrifice in the design of this backpack. To ensure that you keep going on your journey throughout the day, the Legend IQ has two padded adjustable shoulder straps and a padded back panel. You will hardly know you are wearing it! And when you finally stop to take a rest, this backpack will securely stand upright to ensure none of your products are damaged when you set it down.

Compatibility
Fits laptops up to 16" along with a place for you tablet or iPad; Also equipped to function with most MP3 players by connecting through a cord in the shoulder strap

Functionality
Adjustable strap to make sure laptop stays securely in place and holds almost anything you would need in several multi-function pockets including sunglass holder and MP3 player compartment; Ergonomically designed to mold to your back and shoulders with padded back panel and shoulder straps

Material
Durable nylon material

Brand and Item Information
Brand:
Targus
Name:
Targus TSB705US
Brief Description:
Targus TSB705US, 40.64 cm (16"), Backpack, Black, 32 cm, 15.5 cm, 46.5 cm
Expanded Description:
Targus TSB705US. Maximum screen size compatibility: 40.64 cm (16"), Type: Backpack, Colour of product: Black. Width: 32 cm, Depth: 15.5 cm, Height: 46.5 cm. Weight: 1.33 kg
Weight & dimensions
Width:
32 cm
Depth:
15.5 cm
Height:
46.5 cm
Notebook compartment dimensions (WxDxH):
42 x 266.7 x 387.3 mm
Other features
Weight:
1.33 kg
Design
Maximum screen size compatibility:
40.64 cm (16")
Type:
Backpack
Colour of product:
Black
Material:
Nylon
Shoulder strap:
Y
---
Free ground shipping in the contiguous 48 United States on most orders over $5.00!